Shop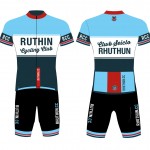 Purchase Club kit below.
All club kit stock is now held in Cellar Cycles, Well Street, Ruthin, and paid for there. Before visiting, please call on 01824 707133 to see if the item you want is available and the shop is open.
The club kit we stock is listed below, with prices, but unfortunately you cannot order it on-line. This is because of logistical problems with keeping stock levels up-to-date. To stop people trying to order online we have set the stock level to zero for all items, even where we do actually have stock.
However, we periodically update this stock list, but please be aware that some items may have already been sold, so please phone Cellar Cycles first on 01824 707133 to check if your size is in stock. We have a small turnover and have a minimum order size 10 items with our suppliers, so may not have your size in stock at the moment, but we do re-order when stocks are low.
Our club kit, designed by a club member, is custom-made by GSG, one of the leading manufacturers of custom bike wear in Italy. Located in the north east of Italy in a region with a long tradition in the bike and textile industry.