Shop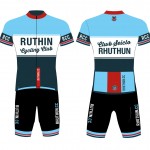 How to Purchase Club kit…

Our club kit is custom-made by GSG, one of the leading manufacturers of custom bike wear, located in the north east of Italy in a region with a long tradition in the bike and textile industry.
Please see the images and prices below to see what items of kit we have, but please note that you cannot purchase kit online, neither direct from GSG due to the minimum order quantity by item they require, nor from this website as we do not have a payment system. Because of this, stock levels on this website are set to zero for all items, however we do actually have stock of the most common sizes of all our kit, and we order new batches when stock of a particular item gets low.
If you want to purchase kit, please:
Browse the items, sizing and prices that we stock, see below.
Check the latest stock list for the required item/size – click on this link:   Club Kit Stock List
If the item you want is showing in stock, please email kit@ruthin.cc to request the item. If it is not, please also let us know via the same email address and we will ensure your request is included in the next order.
The kit holder will check if the item is still available. If it is not (since recently sold), we will include your request in the next order. If it is available, it will be reserved for you, and you will be asked to pay for the item by direct bank transfer to the club account, and confirm back to us when this is done.
The kit holder will then contact you to arrange collection. Currently this is will be from the Llandyrnog area.
Items can be exchanged or refunded provided they are returned in 'as new condition', including in the original packaging and with manufacturers labels still attached so we can sell them to someone else.
Please note – we only sell our club kit to club members.