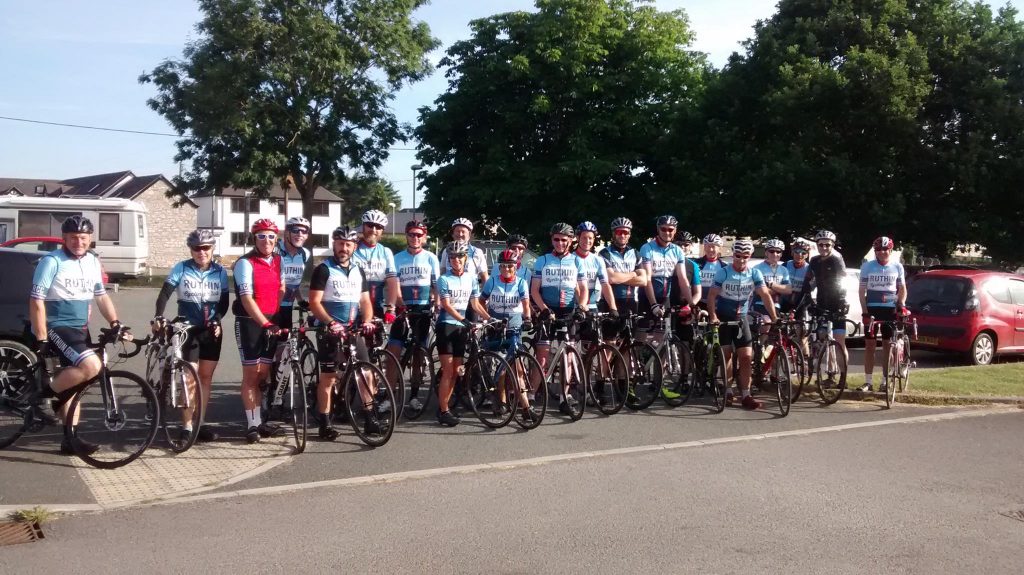 Ruthin Cycling Club currently organises weekly group on-road rides as detailed below, and supports local Time Trial events in the summer season.
We always aim to 'Start as a group, Ride as a group and Finish as a Group.'
We meet in Ruthin at St Peter's Square in the centre of the town, by the Clock Tower.
We ask members to register their intention to join a ride by signing up on RideWithGPS (see below for more details). We email all members a reminder a few days beforehand and publish any pre-planned routes there. This makes it much easier to plan riding groups, keeping them to a manageable size, and to nominate ride leaders.
Sunday Long Rides (9:00 am start, promptly!) meeting at St Peter's Square, we have rides for three ability levels, covering 40-60 miles on pre-published routes using RideWithGPS.
The B's average 11-13 mph (plus stops!) depending on how hilly it is and we make sure no-one gets left behind.
The Intermediates average say 13-15 mph with fewer stops
The A's 15-17 mph over a longer distance.
All rides will do perhaps 3,000 to 5,000 feet climbing – we are in Wales! The three routes are different, but we aim to all meet up at an arranged cafe stop half way and we expect the rides to take around 4 – 5 hours.
Sunday Social rides (10:00 am start) meeting at St. Peter's Square by the Clock Tower, for about 2 hours and 20 miles, finishing at a cafe in Ruthin at 12:00. Routes are decided on the day. We generally split into 2 or 3 groups based on ability and appetite for hills! The groups will ride at the pace of the slowest rider.
Periodically we organise longer Sunday rides (typically on the last Sunday in the month during the summer), and occasionally we go somewhere different, eg starting in Betws y Coed to ride in Eryri, or to meet up with another club. We also support other local events, such as the Reliability Ride.
On Wednesdays (10:00 am start) meeting at St Peter's Square, we usually have two or three groups, depending on numbers. The routes and groups depend on the numbers and abilities of those riding: one averaging 10-12 mph or at the pace of the slowest rider, and another perhaps 12-14 mph.
We aim to finish for a coffee in Ruthin at 12:00. The rides generally involve 1,500 – 2,500 feet climbing and the routes are decided collectively on the morning, depending on weather and riders' appetites for hills!
Evening activities. In the summer, starting 28th April in 2022, we plan to have fast Thursday evening "chain-gang" and/or other training rides. In the winter we organise turbo sessions for members, using Zoom now. If you are interested in taking part, please email turbo@ruthin.cc
Time Trials (TT)
The organisation of Time Trials in the Vale is changing in 2022: RCC is no longer running the TT events but rather a newly formed Vale of Clwyd Time Trials Club (VoCTTC).
To take part in these local TT events and join in their League competition you will need to join the new club (VoCTTC) which costs £10. Though RCC members may compete up to three times before joining.
Members of the VoCTTC will be required to assist at three events throughout the year, for which there will be training.
Volunteer helpers at the events do not have to be members of VoCTTC, but they are required to undertake the training.
RCC remains affiliated to Cycling Time Trials for 2022, so you will still be able to compete at any other clubs' events (including Chester, Wrexham, Rhos on Sea etc).
There are a range of length of time trials including 5miles, 9miles, 10miles, 18 miles, 27miles, 37miles and 50miles, over different courses. They mainly start and finish near Denbigh. The first TT this year is on 26th April 2022. The Hill Climbs and 5 mile TTs are "Come and Try It" events, open to anyone if you want to try out a TT.
For more details about the new VoCTTC, please see their Facebook page here.
The results of the league are here.
RideWithGPS
We have a club membership with RideWithGPS which gives all members free access to our library of local routes and access to those routes as if you were a fully paid-up RWGPS subscriber. When you join our club you will be invited to subsciibe to our RWGPS club (free of charge!). This benefit includes off-line, downloaded, turn-by-turn navigation on your smartphone using the RWGPS app. And you can use our route library to plan your own trips if you are not familiar with the area.
Below is a selection of typical club rides, but there are loads more in the Club Library. We go to several other destinations and regularly update the routes for variety. And sometimes they are changed on the day according to riders' abilities and the weather!
A typical Wednesday ride for the "Not Quite So Fast" group: To Prion some 20 miles with 1,200 feet climbing.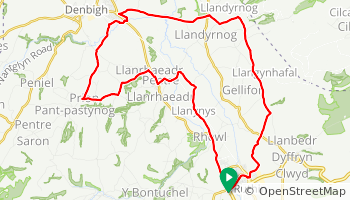 Sunday B group ride To Rhyl, some 46miles with 2,250 feet climbing.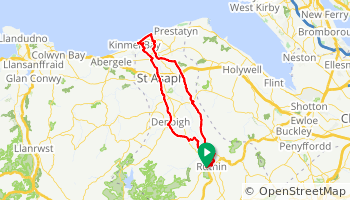 Sunday B or Intermediate group ride To Bala, some 52 miles with 3,860 feet climbing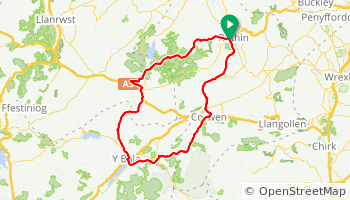 Sunday A group ride To Llangollen, some 51 miles with 4,100 feet climbing.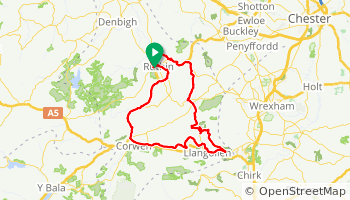 Other Ideas
We welcome proposals and ideas for different ride formats from both members and interested locals and will try out new ride ideas where they are supported by our members. In the past we have organised trips abroad and we periodically join up with other clubs or travel to ride in a different part of Wales, eg Snowdonia. If you have an idea for a ride you would like us to consider, please email us here.
Some members are also keen mountain bikers, gravel enthusiasts and bike packers/tourers etc – additional informal rides can be planned via our Facebook group.